As a child I visited Jacksonville; then, as a young person, discovered Sanibel.  I spent part of every winter there and eventually settled in Nokomis.  Over the years I've explored the beaches, swamps and woods of Florida.
I started photographing the scrubby flatwoods at Oscar Scherer State Park and with the mentoring of generous souls, I developed a deep love for the plants and animals of this rare community.  After completing the Florida Master Naturalist Program, I was moved to document other natural areas throughout the peninsula.
When I download my photos onto my Mac, I identify that day's plants using the Florida Plant Atlas.  Then I put "what is" into the context of "what was" by reading William Bartram, J.K. Small, Roland Harper, and Archie Carr.
I think of myself as a scribe.  My photography and writings are a pathway to understanding Florida's rich diversity.  As I climb over fallen trees and extricate myself from thorny brambles, places may verge on vegetative chaos.  Often light, weather and access are out of my hands so I haveve learned to relinquish control.  When I give into serendipity, magic happens.
Oftentimes I hear bulldozers and over the years I've watched natural Florida disappear parcel by parcel. Grieving for the losses, I have made a commitment to "stand" for the land which is as important to me as documenting it.
This website records my continuing Green Pilgrimage from naiveté to passionate advocacy.  May it help you on your journey.
---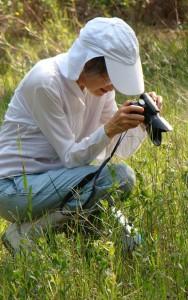 Early in her career, Fran edited and published "Women's Work Magazine" and worked for "The Washington Star" newspaper.  She is past Secretary of the Friends of Oscar Scherer Park and a former member of the Sarasota Tree Advisory Council.
Fran is an award-winning writer/photographer who continues to publish in the Florida press.   She writes for national and international magazines and is a contributing editor for the "Sarasota News Leader".
Fran's photographs are featured in Natural Florida Landscaping by Dan Walton and Laurel Schiller.  They are also on display at various state and county Parks.
She is co-owner of the Florida Native Plants Nursery, Vice Presidnet of the Florida Native Plant Society (Serenoa Chapter), and a member of the Board of the Sustainable Living Center in Hampton.
To purchase copies of her photo books, Florida Wildflowers Through the Seasons, In Praise of Spanish Moss, Carlton's Cat and Dragonflies, visit her store.
---
Email: franpalmeri@gmail.com
Telephone: 941-544-6148